Creating Radiation Safe Zones All Around.
PRODUCTS
PRODUCTS
RadICON

ERM Integrated Management Solution
Integrated management of multiple ERM operations based on Web GIS
Regular monitoring of radiation safety throughout the country
Introduction
The RadICON supports 365 day uninterrupted remote monitoring and data collection of many stationary environmental radiation monitors(ERM) distributed around the nuclear power plant. It consists of an on-site LCU solution and a central server solution.
The LCU solution manages the operation of radiation measurement equipment such as HPIC and scintillator, and peripherals such as UPS, air sampler and dose indicator, periodically collects data and transmits it to a remote server.
The server solution communicates with on-site ERM by M2M, TCP / IP, serial, etc., and remotely collects environmental radiation measurement and operation data in real time and remotely controls equipment. It provides ERM integrated operation management and task support functions such as information inquiry, equipment management and report creation.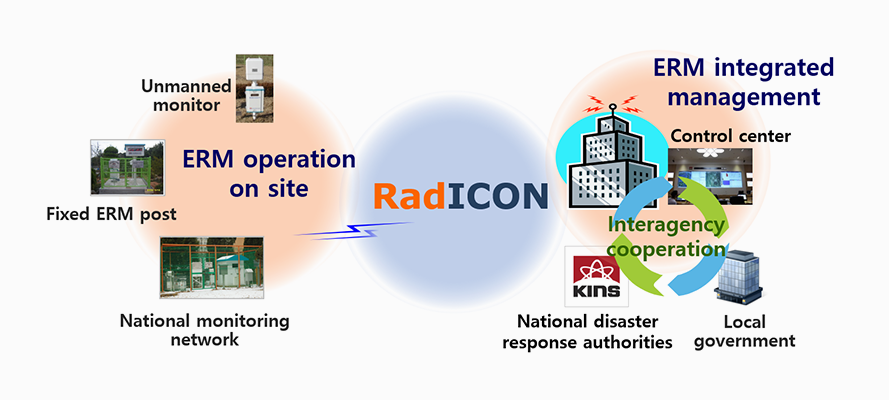 Central ERM Server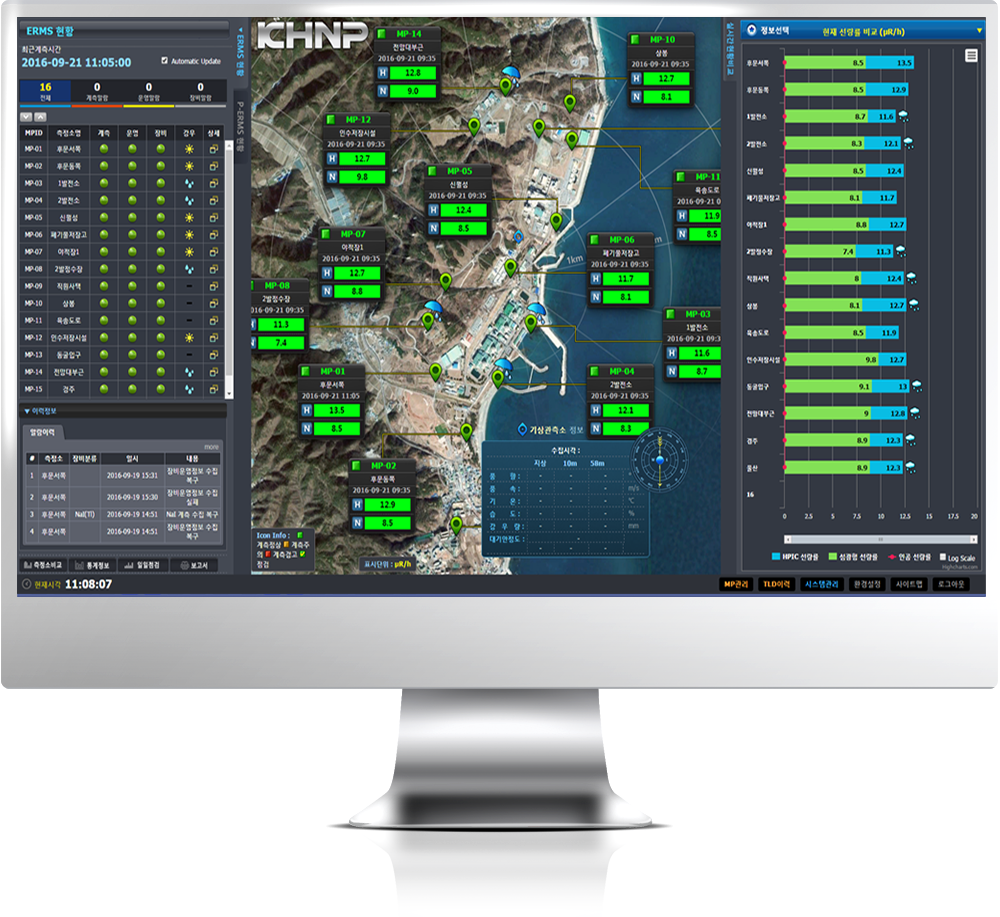 ERM Integrated monitoring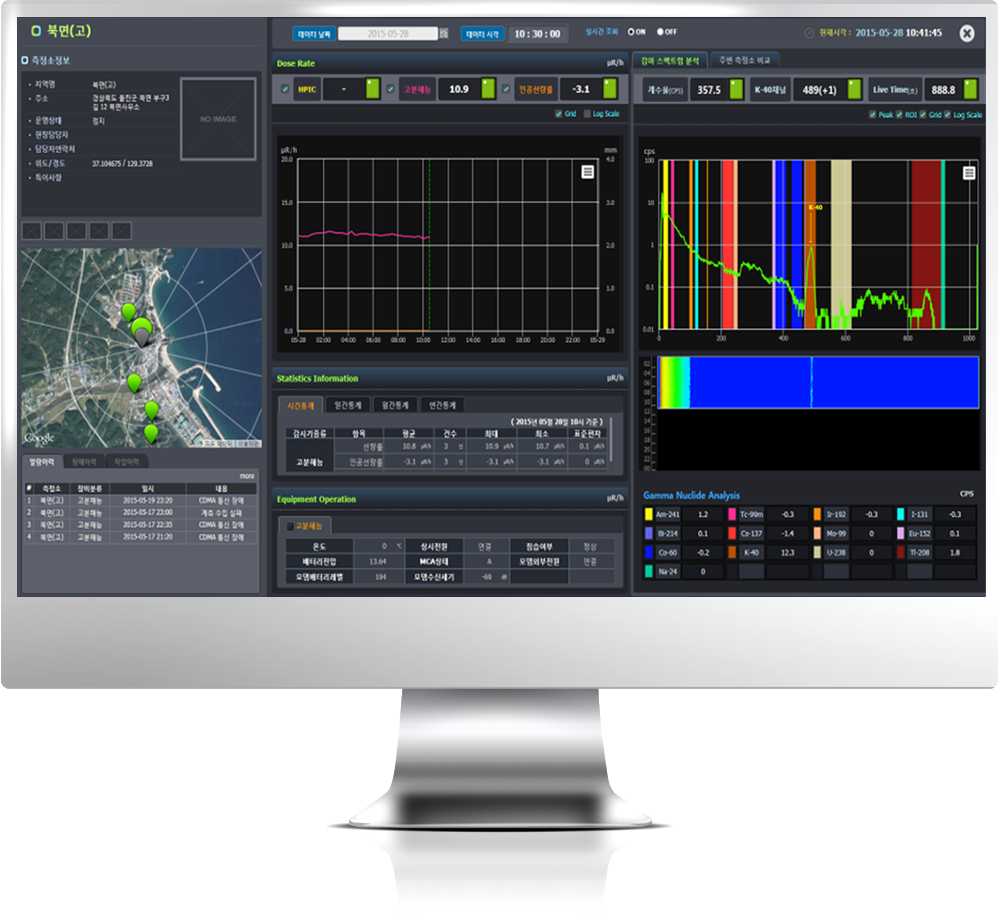 Detailed information of individual ERM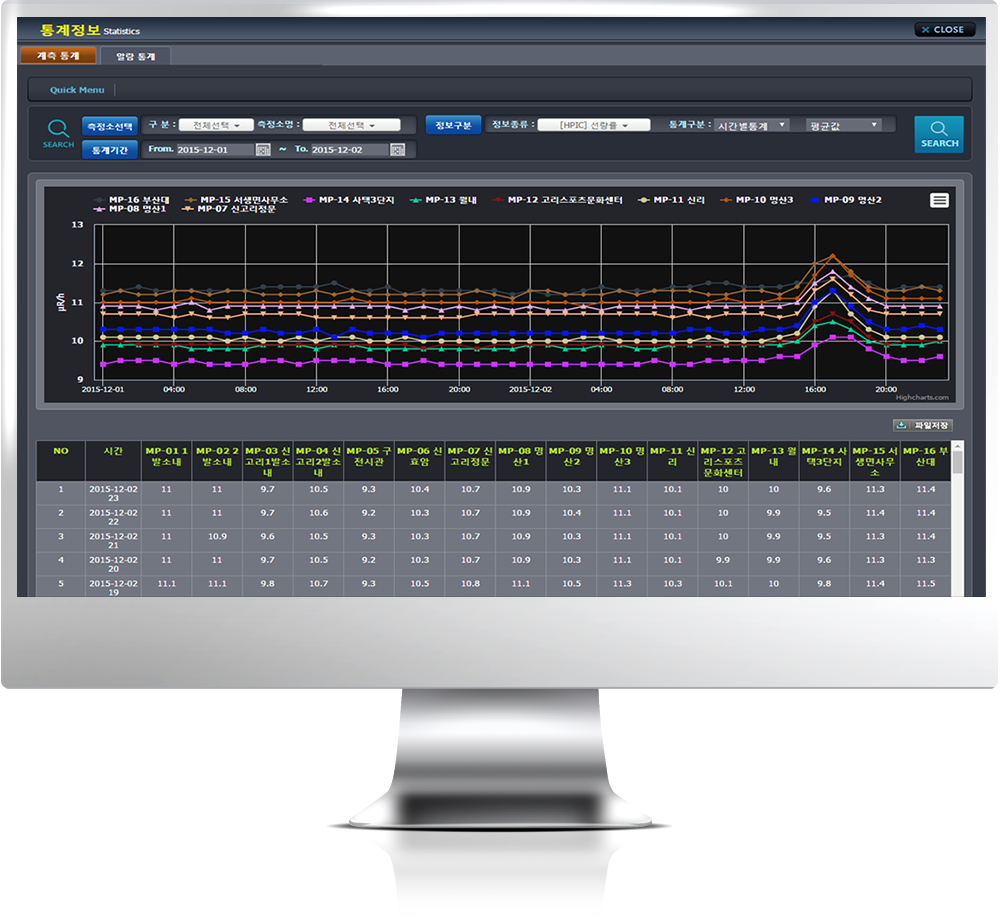 Trend and statistical chart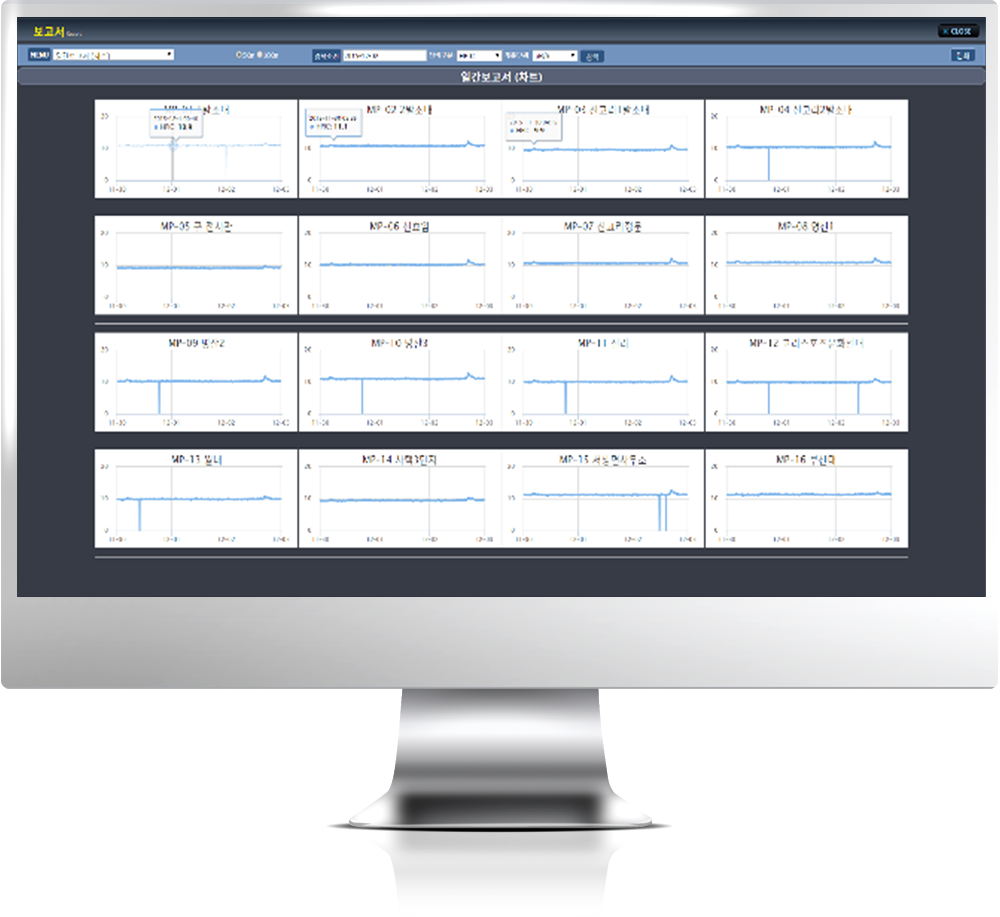 ERM daily check
Provides integrated management of ERM operations based on Web GIS.
Communicates simultaneously with multiple ERMs through secure connections to collect data.
Performs real-time analysis of collected data to monitor whether or not the alarm is present.
Provides integrated information for quick understanding of ERM operation status and emergency / disability.
Provides detailed measurement and analysis data of ERM and supports accurate cause analysis in case of emergency / failure.
Displays time / daily / monthly / yearly statistical changes of multiple ERM collection and analysis data using a time series chart.
Provides the contour map of dose rate distribution through spatial analysis.
Provides control function for remote management of ERM.
Automatically generates reports using collected data and analytical / statistical results.
ERM Local Control Unit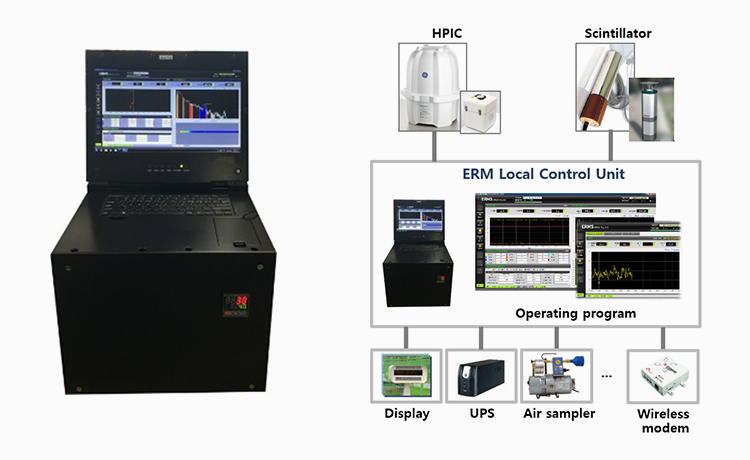 Manages the environmental radiation monitor to operate continuously for 365 days.
Adjusts data collection cycle in minutes.
Fully controls the information collection by interworking with various equipment.
Automatically connects equipment and reinforces disability responsiveness through redundant communication with equipment.
Provides various analysis information (dose rate conversion, artificial dose rate, nuclide analysis, peak automatic search, spectrum change monitoring, etc.).
Adjusts scintillator gain automatically through K-40 channel real-time monitoring and automatic calibration of energy calibrationcoefficient.
Supports the convenient energy calibration of scintillator.
Supports remote data collection and remote control through M2M and wired / wireless communication.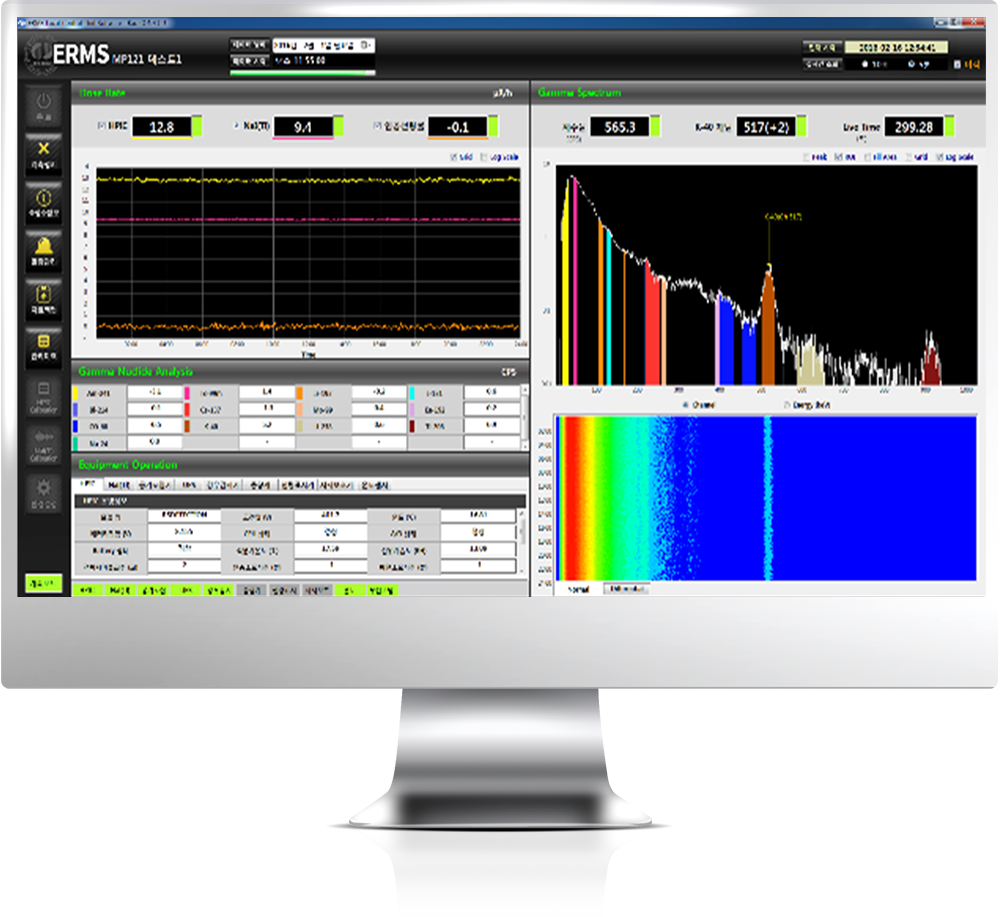 Operation monitoring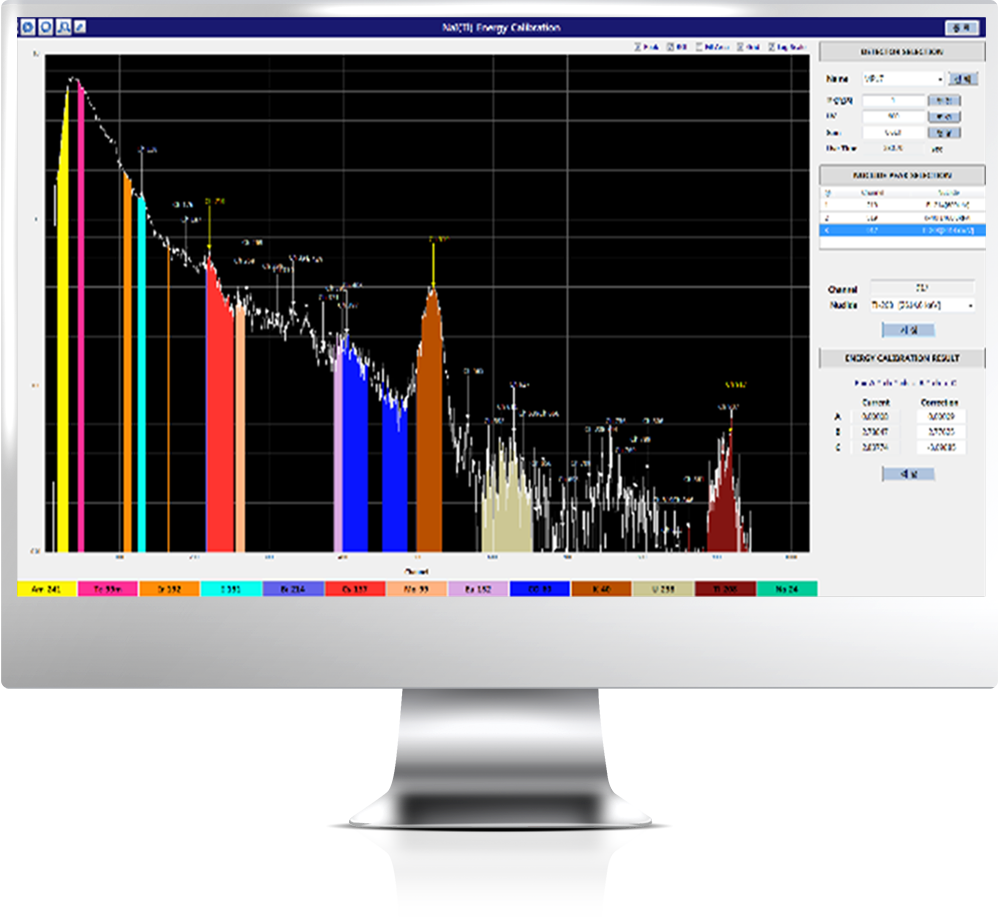 Energy calibration